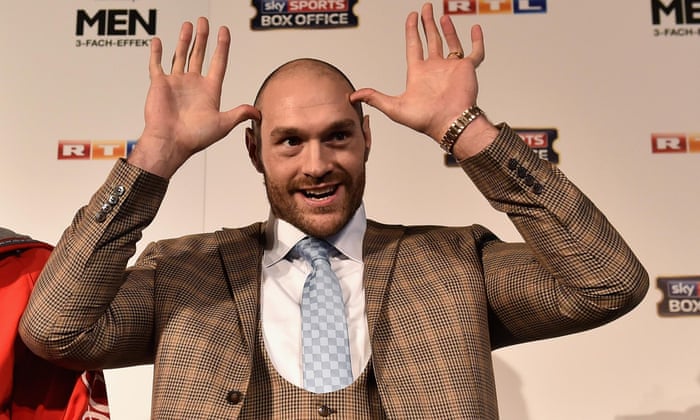 On Friday it was reported that Fury had failed a drugs test after a random urine test on 22 September tested positive for the substance benzoylecgonine, the central compound found in cocaine. Fury pulled out of the rematch against Klitschko a day after the test.
Fury also responded to the reports about that positive test on Twitter by posting a cryptic photograph. It showed Al Pacino's character from the film Scarface, Tony Montana, sitting with a pile of cocaine on a table in front of him. Fury superimposed his face on to the picture, with the hashtag #Tysonmontana, which did little to clear up the confusion surrounding the reports.
Fury, who was stripped of his IBF title when it became clear he planned to face Klitschko again instead of the mandatory challenger Vyacheslav Glazkov, had postponed the first defence of his WBO and WBA titles from July because of an ankle injury. By that point he had already offended many by making sexist, homophobic and antisemitic comments, but he apologised for those and insisted he is "in no way a racist or bigot".
Since his ankle injury, Fury's career – which held such promise in his position as the world's leading heavyweight – has suffered significant damage. Reports emerged that alleged he had failed a test for the banned substance nandrolone, allegations he denied and responded to through his legal team, who spoke of plans to sue UK Anti-Doping (Ukad).
He missed a press conference last month to promote his rematch with Klitschko, when his manager, Mick Hennessy, said his car had broken down and his mobile phone had run out of battery.
At that time Klitschko cast doubt over the 29 October date taking place, with a hearing for his alleged doping violation scheduled for November, before insisting he was prepared to wait for their rematch. Fury then withdrew from the fight amid doubts over whether he would consequently be stripped of his WBO and WBA titles, and most recently it was reported he had tested positive for cocaine.
It remains to be seen whether, as a high-profile and talented fighter, he can be tempted to return to a sport in which he retains a high value. The revelation will simplify the dilemma faced by sanctioning bodies the WBO and WBA. In retirement, Fury's titles routinely become vacant, increasing the likelihood Klitschko will fight for them.
Early indications suggest Anthony Joshua could fight Klitschko for one or more of Fury's belts in what would be an unexpected multi-title world heavyweight fight potentially slated for November.